Love Politics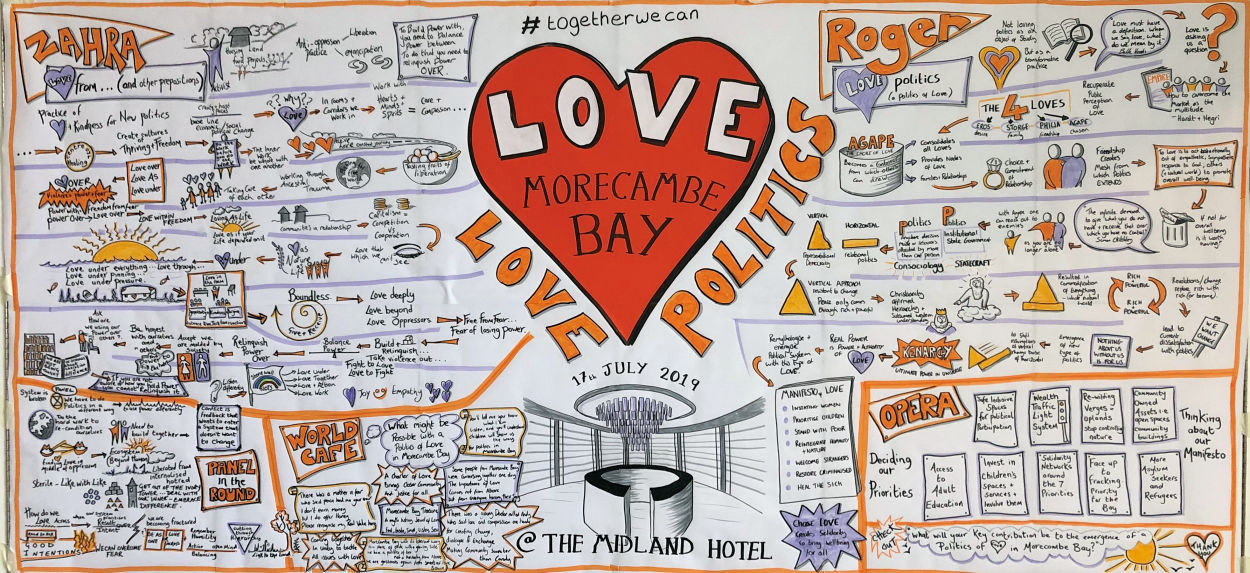 Love Politics – Part 1 – Zahra Delilah
On July 17th we hosted another conversation in our series on how Love and Kindness might serve as important foundation stones for a reimagined future that is socially just for humanity and sustainable for the environment. So far, we've looked at 'Love People', 'Love Society', 'Love Economics' and this time the focus was 'Love Politics'. We welcomed the incredible Zahra Delilah, political activist and organiser. She took us on a beautiful tour of love and it's prepositions! Enjoy!
Love Politics – Part 2 – Panel and Poetry!
Following on from the incredible input from Zahra Delilah, we hosted a 'panel in the round' as the room was full of great thinkers. Then we had a world cafe conversation in which we asked the question: "What might be possible with a politics of love in Morecambe Bay?" We then challenged each table to write a poem as a summary of their discussion! They had the choice of and ABAB four liner, a limerick or a haiku! There were some truly excellent and amusing offerings.
Here are the links to the panel discussion and the poems. Enjoy!
Love Politics – Part 3 – Roger Mitchell
In my view, it would be impossible to host a day on 'Love Politics' without it including my great friend, Roger Mitchell. He is a brilliant thinker and one of the kindest people I know! His thesis, 'Church, Gospel and Empire' (or 'The Fall of The Church', if you want an easier to read version!) is vital reading for anyone who wants to seriously engage with the idea of a politics of love. Here, drawing in his own work and that of Luke Bretherton, he gives an absolutely brilliant insight into why love is such a powerful foundation and force for a new politics. This is really worthy of your time and energy!